First time beginners or seasoned advanced riders both welcome!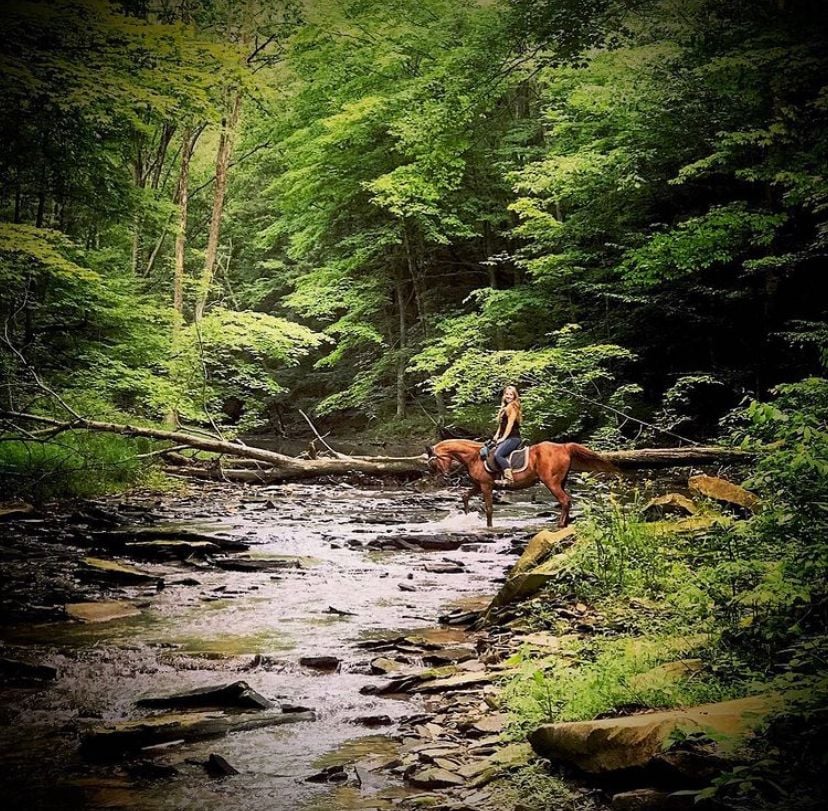 Regular horseback trail riding in Mount Sterling, Ohio
3o minutes /
$25
60 minutes /
$35
90 minutes /
$45
2 hours /
$50
3-4 hours /
$75
Sorry we do not offer double riders on the same horse
Most of our horses and large ponies can accommodate riders up to 250lbs We have a couple belgian draft horses that can accommodate up to 350lbs
Most trail rides take place in Mount Sterling, Ohio 43143 but we do travel the entire state of Ohio.
We can travel to the closest bridle trail near you! Other bridle trails may be subject to change
(price change/minimum riders/time reserved and/or travel fees).
Little riders hand-led trail rides in Mount Sterling, Ohio
45 minutes /
$45
Parent/sibling joining /
$25
Little riders have the chance to experience a real trail ride through trails, open fields and in the woods, nature sighting wildlife such as deer, wild rabbits and more while enjoying a hand-led horseback ride.
Or we may pony them along
(our experienced rider on their own horse while "ponying" = leading another rider from a separate horse)
at a slow easy going walk.
Week day morning sunrise and evening sunset trail rides are open to schedule
Monday - Friday
! Check and see if we have your date available.
***Weekends are fully booked and/or unavailable during our peak season Saturday & Sunday's until November, 2021***
Horseback trail riding requires non refundable payment due in full upon booking.
In the event that you need to reschedule your trail ride, you must give a minimum of a 48 hour notice for us to transfer your payment for a later date or keep it as a credit with us.
Your payment will be forfeited if you reschedule/cancel less than 48 hours, no show or show up more than 20 minutes late. Payments will not be prorated or refunded if choosing a shorter ride than booked or change of mind.
Automatic reschedule
(only if before we leave our farm)
due to mother nature if inclement weather
(ice, lightning / thunder, hail or rain more than a sprinkle, super high winds, below 20 degrees, above 90 degrees)
or unsafe trail conditions.
Absolutely no smoking, vaping, drugs or drinking alcohol on or around our horses. Headphones, earbuds or music devices while trail riding are prohibited
(this is a relaxing trail ride, enjoy nature & leave behind the electronics).
Keys & phones should remain in our secure saddle bags attached to your saddle
(you may take out your phone/camera for pictures & videos if desired)
or keep secure in
zipped
pockets.
We are not responsible for lost items that may fall out of your pockets and may not be able to backtrack to retrieve them.
No purses, bookbags or any type of bag with straps can be worn while trail riding. Please listen to your trail guide and stay in sight of your trail guide at all times. Failure to abide by your trail guide may subject immediate end to your ride time.
We have the right to refuse service at any time during your trail ride (with no refund or prorated amount) if these rules are violated in any way.
Please arrive 15 minutes ahead of time to be fitted to your helmet
(optional for ages 18 & older)
and for stirrup adjustments. Long pants or jeans and close toed shoes (boots with heels preferred) are required. Keep in mind we will be riding through woods and at times crossing creeks. We suggest wearing old clothes that you don't care to get dirty or snagged by branches. We highly recommend bringing bug spray and a water bottle.
Your trail ride is the duration of time that you choose. We have trails that match up which take certain amounts of time walking on horseback to complete. If you choose to go faster than a walk (trotting/cantering), it may result in a shorter ride time as our trail paths are time matched to complete on horseback at a walk.
Trail rides are
not secure
until the following steps are completed:
You must receive a confirmation text or email from us verifying your trail ride is completely set up. Full payment paid
(once date & time is confirmed).
Fill out our waiver
(we can text or email it to you)
. Fill out our trail riding form
(link directly below).
We accept the following payment methods;
Zelle quick pay:

614-204-5353

Venmo:

@horsenroundfun

Cash app:

$horsenroundfun

Credit card:

(small fee)